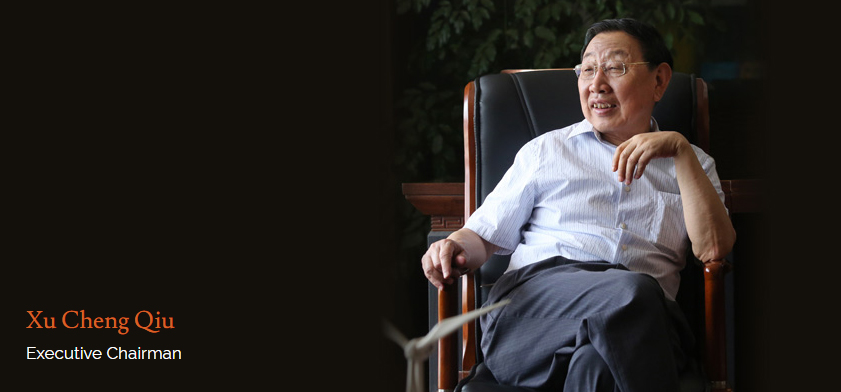 Dear Shareholders,
On behalf of the Board of Directors of China Sunsine Chemical Holdings Ltd. ("China Sunsine" or "the Company", together with its subsidiaries, collectively the "Group"), I am pleased to present the annual report for the financial year ended 31 December 2022 ("FY2022").
In 2022, amid a slow recovery from the impact of the COVID-19 pandemic, the world economy has continued to be buffeted by multiple, inter-connected crises, such as the tension in US-China relationship, Ukraine-Russia conflict, food and energy crisis, high inflation and interest rate hike etc. According to the forecast made in January 2023 by the International Monetary Fund ("IMF"), the global economy grew by 3.4% in 2022, down from 6% in 2021. In addition to the macro-economic situation mentioned earlier, China's economy was also affected by multiple outbreaks of COVID-19 cases in many cities and its strict control measures. As a result, China's GDP grew by 3% in 2022, down from 8.1% a year ago.
The operating environment throughout the year was characterized by complexity and uncertainty: the volatile international crude oil prices, which had led to the fluctuation in the prices of our raw materials; the low level of production utilisation rates among Chinese tyre manufacturers, and the intensified competition. However, with its leading position in the rubber chemical industry, as well as competitive advantages in the areas such as economies of scale, strong financial position, superior products, and capability of research and development, the Group demonstrated resilience and delivered an exceptional performance to its shareholders in 2022.
With its leading position in the rubber chemical industry, as well as competitive advantages in the areas such as economies of scale, strong financial position, superior products, and capability of research and development, the Group demonstrated resilience and delivered an exceptional performance to its shareholders in 2022.
The Year Under Review
The Group's revenue in FY2022 increased by 3% from the financial year ended 31 December 2021 ("FY2021") to RMB 3,825.1 million. This was mainly due to the increase in average selling price by 8% as compared to that in FY2021, led by higher raw material prices. However, sales volume decreased by 5% from the preceding year to 186,153 tonnes, mainly due to weaker demand caused by the low operating utilisation rate of downstream tyre manufacturers. The Group's net profit in FY2022 soared by 27% year-on-year, reaching a historical high of RMB 642.4 million.
The Group's earnings per share for FY2022 was RMB 66.29 cents. As at 31 December 2022, its net assets per share stood at RMB 382.3 cents. Moreover, the Group's financial position was further strengthened with cash and cash equivalents amounting to RMB 1,364.9 million, and no bank loans.
Capacity Expansion Plan
Guided by the "Higher sales volume leads to higher production, which in turn stimulates even higher sales" (also called "Sales and Production Equilibrium") strategy, and by leveraging its ready resources of land, technology and funds, the Group had orderly executed its expansion plan in order to meet the market demand for its products and continuously enlarge its market share. Set out below is an update on the progress of the expansion projects undertaken in 2022:
30,000-tonne per annum Anti-oxidant TMQ and 2,000-tonne HTMQ project has been completed and we have started commercial production in 1H2022.
Phase 2 30,000-tonne per annum IS project. The entire project, which has a total capacity of 60,000 tonnes, adopts the most advanced "continuous production" process developed by our in-house R&D team. Phase 1 of the 30,000-tonne p.a. capacity was completed and put into production at the end of 2021. Phase 2 of the project with another 30,000-tonne capacity per annum, is progressing according to schedule. Management expects it to be completed by the end of 2023.
Phase 1 20,000-tonne per annum Continuous Production of High-quality MBT project. MBT is an intermediate material for producing many kinds of accelerators. Our current MBT capacity is insufficient to meet our internal production needs. The new "MBT project" with total capacity of 60,000-tonne per annum will be built in two phases. This Phase I of 20,000-tonne capacity is expected to be completed by the end of 2023.
Phase 2 50,000-tonne Controlled Landfill Project has been completed by the end of 2022.
15th Anniversary of Our Listing: A Reflection
Over more than 40 years, the Group has undergone significant changes – from its early days as a small enterprise, followed by the management buyout and subsequently, listing on the Singapore Exchange and compliance with international standards. We have witnessed great achievements, especially in the 15 years since our listing on the Mainboard of the Singapore Exchange in 2007. The Group has become the world's largest rubber accelerators producer, China's largest insoluble sulphur producer, and a major producer of anti-oxidants through its prudent organic growth and development along the journey.
We have shown our stakeholders a strong track record over the last 15 years:
Sales revenue rose from RMB 619.5 million in 2007 to RMB 3,825.1 million in 2022, at a Compound Annual Growth Rate ("CAGR") of 12.9%
Net profit grew from RMB 76.1 million in 2007 to RMB 642.4 million in 2022, at a CAGR of 15.3%
Net assets increased from RMB 468.9 million to RMB 3,691.8 million in 2022, at a CAGR of 14.7%
Continuous payment of dividends every year since our IPO
The Group's production capacity has continued to expand, reaching 254,000 tonnes in 2022, almost five times larger than that at the time of its listing. The product range has expanded from rubber accelerators products to insoluble sulphur and anti-oxidants products, providing tyre manufacturers with more comprehensive and high-quality rubber chemical products and services.
Moreover, the Group always emphasizes that innovation is the major driving force for development. Through the collaborative efforts of its internal R&D team and partnerships with professional research institutions, the Group has made remarkable achievements in innovation and improvements in areas such as process technology, energy conservation and consumption reduction, quality improvement, safety and environmental protection. New expansion projects have all adopted the industry's most advanced "continuous, automated, and green production processes" technologies, greatly improving production efficiency and safety while also being more environmentally friendly. At the same time, the Group has also been undertaking comprehensive upgrading and transformation of its old production facilities progressively.
We are proud of the progress we have made in the past fifteen years. At the same time, we are fully aware that the road ahead is still full of difficulties and challenges, and we must prepare in advance and proceed with caution.
Outlook and Prospects
The current global economic situation is becoming increasingly gloomy, and the dark clouds will not pass quickly in the short term. The Ukraine-Russia conflict continues to deteriorate, with the possibility of further escalation. Raw material prices continue to fluctuate, posing challenges to enterprises in their cost control abilities. Inflationary pressures are becoming increasingly elevated, further depleting people's living standards and limiting consumption levels. What is even more concerning is that competition in the rubber chemical industry has become more intense. Although the concentration and consolidation of the industry have further increased, major manufacturers have also begun to launch expansion projects in recent years, causing fierce market competition.
Currently, China's economic development is still facing three-pronged pressure from insufficient consumption from residents, lack of confidence of enterprises, and the slowing global economic growth. However, as the world gradually emerges from the COVID-19 pandemic, and under the stimulation of China's macro-economic policy of "maintaining economic stability and steady growth," we believe that China's economy and people's confidence will gradually recover.
According to the latest Economic Outlook report by the Organisation for Economic Co-operation and Development ("OECD") released on 17 March 2023, China's economic growth forecast for 2023 has been raised from the previous 4.6% to 5.3%. The OECD expects global economic growth to be 2.6% and 2.9% in 2023 and 2024, respectively, and China remains a major contributor to global economic growth.
With the market recovery, we expect the utilisation rate of tyre companies to steadily increase. According to data from the China Association of Automobile Manufacturers ("CAAM"), in 2022, sales of new cars in China saw a year-on-year increase of 2.1% and the trend is showing a steady pick-up. New Energy Vehicle sales volume has soared by 93.4%. It has become the new driving force of automobile sales. Hence, we expect the rubber chemicals industry to maintain a slight growth rate, while the export volume will be relatively higher.
As a leading rubber chemical producer, Sunsine's brand name and large-scale advantage are becoming more and more significant. The Group has developed and implemented a series of expansion plans aimed at further increasing market share and enhancing competitiveness. The Group will also continue to explore the feasibility of new projects to lay a solid foundation for long-term sustainable development. We are full of confidence in the Group's future development.
Proposed Dividend
On 9 September 2022, the Group paid a special interim dividend of SGD 0.005 per share in celebrating the 15th anniversary of its IPO on the Singapore Exchange.
In appreciation of shareholders' long-term support, and taking into account the Group's performance for FY2022 and future expansion plans, the Board of Directors proposes a final one-tier tax-exempt dividend of SGD 0.01 per ordinary share, plus a final special dividend of SGD 0.015 per ordinary share for FY2022. This proposal will be discussed and approved at the upcoming Annual General Meeting.
Acknowledgement
Despite the challenging environment last year, the Group achieved a remarkable performance thanks to the joint efforts of the Board, management and all employees. This set of results would not have been possible without their unity of purpose, strong conviction, and excellent execution skills.
At the same time, I would like to thank our customers, business partners, suppliers, and the community for their longstanding support to the Group. Their unwavering trust in us drives us from one success to another during these testing times.
Last but not least, on behalf of the Board of Directors, I would like to express my sincere appreciation to our shareholders for their trust, understanding, and support of the Group over the years.
On the occasion of the 15th anniversary of our IPO, we not only commemorate our history and progress, but will also improve introspection and consolidate our experiences to pave the way for our long-term and sustainable development. We believe that with the joint efforts of the Group's employees, shareholders and stakeholders, our future will be even more brilliant. We will also take on more social responsibility to give back what we had obtained and benefited so much from the community. So let's forge ahead!
Xu Cheng Qiu
Executive Chairman
March 2023